NordVPN is a reliable, fast VPN service that offers an impressive array of servers across multiple simultaneous connections that benefit from industry-leading privacy parameters.
The platform provides unrivalled streaming functionality, with reliable IP redirection across all major media sites.
The user experience could be tidied up a little.
The paid VPN marketplace is, and has been for quite some time, a somewhat crowded one. Users are faced with a dizzying array of applications, security features, payment options and connection settings that can make the job of choosing a VPN provider much harder than it ought to be.
If you've shopped around recently for a VPN service, chances are you've come across the name NordVPN. Despite the proliferation of VPN platforms over the last five years or so, the Panama-based service provider has remained a popular choice for global VPN users, spanning 5,000 servers across multiple regions.
We're going to take a look at why NordVPN has managed to consistently hold a considerable portion of the worldwide VPN market.
Specifications
Encryption method: AES-256
IP address format: Dedicated, static, or shared
Number of server: 5,200
Number of regions: 59
Registered HQ: Panama
Platforms: Windows, Mac, iOS, Android, Linux and Android TV
Simultaneous connections: 6
NordVPN – An Overview
NordVPN was first launched as a public service in 2012 and enjoyed a meteoric rise to prominence within a relatively short period of time. Within just six years from its launch, the company had released a popular Android app, an iOS app, a Chrome extension and an application for Android TV. A year later, the platform was spread out over 5,000+ VPN servers in over 60 countries.
If there is such a thing as a "household name" in the VPN industry, NordVPN is it, which is perhaps the best indicator there is of its underlying ability as a big-name VPN service. The service is available across all major desktop and mobile operating systems (including Linux), and the Android app in particular has recently won praise from IoT cybersecurity organisations for its underlying functionality and levels of security.
User Experience
NordVPNs popularity has a lot to do with its usability across its various desktop and mobile applications. While things can sometimes get a little muddled in this regard – almost as if the platform becomes too smart for its own good – the service maintains a relatively simple front-end experience that presents clear choices for its users.
In line with most other applications, NordVPN gives users the chance to select a region from a list of global servers, presented in a standard list. Where the application falls somewhat short is the inability to pinpoint specific servers within a given region – a useful feature when you've found a server that performs well on your device. Users instead select a region, and the application decides which server to use, presumably based on load requirements and connection suitability. It's not a game-changer, but certainly something to be considered, though it can't be said that this alters connection speeds in any meaningful way, which is what really matters.
NordVPN also offers users the ability to scroll across a global map, to locate a connection region. While it's a graphically neat addition, it's hard to understand what this adds to the platform when most users just want to connect to a region as quickly as possible. When it was first introduced, NordVPNs maps were notoriously cluttered, but recent updates to the platform have grouped together multiple servers into one large 'pin'.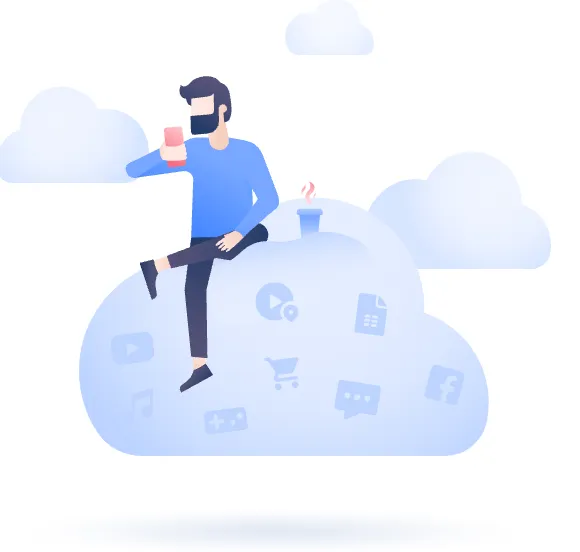 Speed
This is where NordVPN really does come into its own. VPN speeds are notoriously difficult to categorize due to the number of factors that contribute towards a reliable connection, but nevertheless, NordVPN consistently performs extremely well throughout industry-wide download and upload connection tests. Most of this can be attributed to a piece of technology called 'NordLynx' – a relatively new VPN protocol, developed by the company themselves, specifically designed to improve connection speeds across multiple geographic regions based on the widely-available open-source VPN software, WireGuard. Tests have consistently shown that NordLynx is fast becoming a game-changer for increasing connection speeds without compromising security. The protocol is easily installed from within the NordVPN application and – best of all – it's totally free!
Privacy and Security
If you spoke to the company themselves, NordVPN's biggest selling points are undoubtedly its security and privacy features. All the standard security features are present, including a killswitch that terminates an Internet connection if your VPN drop, DNS blocking and industry-standard encryption methods.
The platform is registered in Panama, well outside of the 'Fourteen Eyes' region of Australia, Canada, New Zealand, United Kingdom, United States, Denmark, Netherlands, France, Norway, Germany, Belgium, Spain, Sweden and Italy. This may seem like a random assortment, but there's an important distinction to be made. Panama has no mandatory data retention laws, meaning that unlike certain other providers, NordVPN isn't burdened by state legislation when it comes to protecting their users' identities, and provides the platform with the ability to operate a "no logging" policy that remains a major benefit for security-conscious users.
Streaming Functionality
Perhaps the most attractive feature for global consumers, especially those in Europe and the United States, resides in the application's ability to transport Netflix, YouTube, Amazon Prime and Disney+ subscribers from region to region, allowing users to stream content that is otherwise restricted in their country of origin. Netflix in particular – despite putting a significant amount of effort into blocking global VPN services – is seemingly unable to prevent NordVPN from fooling its streaming platform into thinking someone is viewing content from a region other than where they reside.
Pricing
It's hard to agree with the common industry sentiment that NordVPN is somehow expensive. Pro tip – it isn't. The application offers three main products across several pricing plans that offer good value:
NordVPN: The standard VPN service
NordPass: An online password manager
NordLocker: An encrypted storage service
When you first purchase NordVPN, you're given the option of a 1-month, 1-year or 2-year plan (the latter reverting to a 1-year subscription when your renewal comes around).
Initial pricing via the website is subject to numerous discounts and offers, but the renewal prices are set as follows:
| Product | 1-month | 6-month | 1 year |
| --- | --- | --- | --- |
| NordVPN | $11.95 | $54 | $99 |
| NordPass | $4.99 | – none – | $35.88 |
| NordLocker 500GB | $7.99 | – none – | $59.88 |
The average cost for a VPN service is around $10 per month, so with NordVPN's yearly option averaging out at $8.25 per month, it can't reliably be placed in the category of "expensive".
Pros
A huge array of servers across multiple global regions, that provide users with a breadth of connectivity options, second only to CyberGhost.
Unparalleled privacy parameters, in line with its location outside of the 'Fourteen Eye' zone.
Industry-leading streaming service functionality that consistently outperforms its competitors across several global streaming platforms.
A user-friendly front end that spans multiple popular desktop and mobile operating systems and reliably delivers multiple fast concurrent connections.
An extensive

knowledge base and tutorial catalogue

, that provides users with everything they need to know, in terms of initial setup and ongoing use.
Cons
The map interface doesn't add a great deal to the overall experience of using NordVPN, despite some recent development. Most users are simply looking to select a region from a list
NordVPN is yet to introduce a 'Favourites' option that allows users to save a list of preferred servers, instead relying on a 'Recent servers' menu.
Browser extensions only provide the option to connect to countries, instead of cities, which are available from the desktop application.
Taking everything into account, it's hard to look past NordVPN for a fast, cost-effective, secure VPN service that meets the needs of its users and provides a simple, efficient set of applications to facilitate multiple connections. The company is clearly invested in driving innovation in the industry, evidenced by ground-breaking new protocols such as NordLynx, and considering the hands-off relationship it has with users' information, is far and away the best platform when it comes to data privacy.